Drs. Simeon Wall Sr., Holly Wall, and Simeon Wall Jr. of The Wall Center for Plastic Surgery proudly announce the opening of their luxurious new MediSpa and plastic surgery center – the first of its kind in Louisiana. The center provides the finest in modern comfort, care, and support for patients before, during, and after their plastic surgery procedures.
Shreveport, Louisiana (March 2009) – The Wall Center for Plastic Surgery is about to open a new state-of-the-art plastic surgery center at 8600 Fern Avenue in Shreveport, Louisiana. This innovative and unique center boasts a comprehensive offering of self-enhancement services and accommodations including a certified surgery center, full-service MediSpa, on-site guest accommodations, and private fitness center.
The full-service patient experience begins with the center itself. The newly constructed 17,000+ square foot facility conveys a sense of beauty, harmony, and permanence through its style, design, and materials. The full range of treatments and services offered at the center are unified by antique walnut floors, peaceful courtyards, and a tranquil stone fountain in the main portico. Through this design the physicians wanted to inspire and promote each individual's beauty and sense of peace and well-being.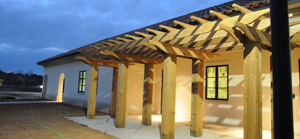 "Our new center is the culmination of a dream we've had for many years as we've grown from a small practice to a premier plastic surgery center in our part of the country," says Simeon Wall Sr. MD, who has been practicing plastic surgery for over 30 years in Shreveport, Louisiana.
"We are especially proud of our on-site surgery center built exclusively for cosmetic surgery procedures," adds Louisiana plastic surgeon Simeon Wall Jr. MD FACS. "This gives us an edge when performing surgical procedures, and gives our patients the reassurance of knowing that their procedure is being performed in an AAAASF-certified surgery center that is also certified by both the State of Louisiana and Medicare."
The Wall Center for Plastic Surgery serves patients from states including Texas, Arkansas, Mississippi, Oklahoma, and Louisiana for breast augmentation and other breast enhancement procedures, comprehensive body contouring, and facial rejuvenation.
"When designing the new center, safety, comfort, and patient satisfaction were our top priority," explains Holly Wall MD FACS. "From private pre-surgical rooms with warmed beds and a private nurse, to beautifully-appointed overnight guest suites, our goal is to offer our patients unmatched support and convenience from start to finish."
Just a few of the amenities and services at the new center include:
Guest suites for convenient accommodations under the care of a private nurse. Each suite is appointed with amenities that echo those found in a luxury hotel, including private restrooms, refrigerators, 42″ flat-screen TVs, and high-speed internet access. Patients can even arrange for babysitting services and have meals delivered upon request.
An expanded and improved Jade MediSpa, supervised by The Wall Center's team of board-certified plastic surgeons in Louisiana. Minimally invasive rejuvenation treatments include BOTOX® Cosmetic, dermal fillers like JUVÉDERM® Injectable Gel, Fraxel® laser treatments, and microdermabrasion. Jade MediSpa is staffed by a team of highly skilled and educated skincare consultants and treatment professionals.
A fully equipped, private fitness center with free-weights, cardio and strength training equipment, all complete with a 55″ flat-screen TV. In addition, personal trainers are available upon request for patients who want the guidance of a personalized fitness program.
For more information, please call  (318) 795-0801, or visit www.wallcenter.com.
The Wall Center for Plastic Surgery invites you to experience their new state-of-the-art center. The team of board-certified plastic surgeons has specialized training and experience in cosmetic surgery of the breasts, face, and body. To learn more, request a consultation online or call The Wall Center for Plastic Surgery at  (318) 795-0801.