The Wall Center for Plastic Surgery
8600 Fern Avenue
Shreveport, LA 71105
Phone: (318) 795-0801
Monday–Friday: 8 a.m.–5 p.m.

The Wall Center for Plastic Surgery
8600 Fern Avenue
Shreveport, LA 71105
Phone: (318) 213-1772
Monday–Friday: 7 a.m.–5 p.m.

Chemical Peels
Fresh, smooth skin doesn't happen by accident. Many women and men maintain a fresh look with Louisiana chemical peels at Jade MediSpa, on site at The Wall Center for Plastic Surgery. Chemical peels are custom tailored to your unique skin needs and are available in several formulations. Our skincare consultants are ready to help you find the one that's just right for you.
Take time out to fully enjoy the soothing surroundings and the many rejuvenating treatments that our modern, full-service MediSpa has to offer. Your comfort and care are always a priority to our team of plastic surgeons and our knowledgeable skincare consultants. When you make time to renew yourself at Jade MediSpa, you can count on feeling refreshed and revitalized.
When You Choose Us…
Looking more radiant and youthful can be the path to an improved sense of well-being. Our clients visit us in Louisiana for chemical peels to refresh and rejuvenate their skin, leaving it brighter, smoother, and younger looking. Additional benefits include:
Improving skin texture
Diminishing wrinkles
Correcting uneven skin pigmentation
Improving the complexion by removing blemishes, tightening pores, and preventing future breakouts
While you're here, be sure to review our complete menu of MediSpa offerings to enhance and renew your appearance. We offer a variety of proven prescription skincare products designed to extend your renewal at home.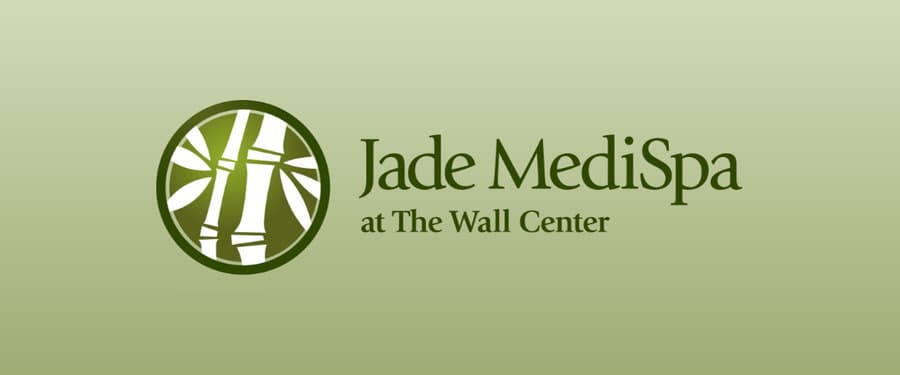 Meet the Team
The aesthetic specialists at Jade MediSpa share a passion for personalized patient care and creating beautiful results that exceed expectations.
Learn More
Jade MediSpa at The Wall Center
Types of Peels
Our helpful and knowledgeable skincare specialists will determine which peel is right for you at your personal consultation. Your skin type, the condition of your skin, and the time period you have available for recovery, all play a role in deciding on a personalized peel. We offer the following variety of peels:
Lunchtime peel: Containing alpha hydroxy acid (AHA), this peel provides rejuvenating and clarifying effects without the redness that follows traditional peels. This treatment is so simple and mild that it can be performed over a lunch hour and you can return to your normal activities immediately afterward.
Light peels: Made with glycolic, salicylic, or lactic acids, these are usually applied over a series of appointments spaced a few weeks apart. When you achieve the look you desire, you can maintain it with a peel every 8 to 12 weeks.
Medium peels: Made with trichloroacetic acid (TCA), these provide many of the same benefits as light peels with the additional benefit of skin tightening. These treatments usually need to be applied once every year, and will remove additional layers of dead and damaged skin.
Many of our clients achieve more dramatic improvements by having an IPL photo facial done before their chemical peel. Be sure to ask your skincare specialist about the available treatment combinations.
Getting Started
We ask that you have a complimentary, in-depth consultation with our skincare specialists before we recommend any medical treatment. This consult includes a detailed skin analysis to guide your personalized skincare treatment plan and home regimen. You can request a complimentary consultation online or call Jade MediSpa at The Wall Center for Plastic Surgery at (318) 795-0801. Conveniently located in Shreveport, we serve patients from Louisiana, Arkansas, Texas, Mississippi, and Tennessee and offer a variety of cosmetic surgery procedures to enhance the face, breasts, and body.
We're Worth the Trip
Patients come from all across Ark-La-Tex and around the globe to receive world-class care at The Wall Center for Plastic Surgery and Jade MediSpa. We frequently see patients from many communities:
Dallas, TX
Minden, LA
Lafayette, LA
Tyler, TX
Little Rock, AR
New Orleans, LA
Natchitoches, LA
Nacogdoches, TX
Jackson, LA
Lake Charles, LA
Marshall, TX
Alexandria, LA
Baton Rouge, LA
Take the first step today and request a consultation or call (318) 213-1772. Ask about our special programs for patients who travel, including our beautiful on-site guest suites. We can't wait to greet you!