The Wall Center for Plastic Surgery
8600 Fern Avenue
Shreveport, LA 71105
Phone: (318) 795-0801
Monday–Friday: 8 a.m.–5 p.m.

The Wall Center for Plastic Surgery
8600 Fern Avenue
Shreveport, LA 71105
Phone: (318) 213-1772
Monday–Friday: 7 a.m.–5 p.m.

Breast Reconstruction
When an illness such as cancer attacks, it can be overwhelming and heart-wrenching on many levels. In order to remove the cancer, it may be necessary to remove a breast through a mastectomy. However, thanks to the latest medical technology, plastic surgeons are able to reconstruct the breast to make it look more natural and shapely.
Our surgeons are experienced professionals who understand the unique needs of women battling breast cancer. To learn more about your reconstructive options, request a consultation at The Wall Center for Plastic Surgery or call our office at (318) 795-0801. Arkansas, Louisiana, and Texas women trust our practice to help them improve their lives after mastectomy.
Breast Reconstruction

Before & After Photos
WARNING:
This feature contains nudity. Please click OK to confirm you are at least 18 years of age and are not offended by such material.
OK
Photo Gallery
Breast Reconstruction Before & After Photos

Before & After
Case #137 Details
Procedures Depicted: Breast Reconstruction
Age: 37
Gender: Female
Height: 63
Weight Before: 120
Surgeon: Holly Casey Wall MD
TRAM reconstruction of left breast, right breast reduction. Patient with left breast DCIS.First Stage: TRAM
Second Stage: Right Breast...
Read More
Keep in mind that each patient is unique and your results may vary.
Keep in mind that each patient is unique and your results may vary.
Who Needs It
Nearly every woman in need of a mastectomy is a candidate for breast reconstruction. However, it is sometimes best to wait for the procedure if there is a chance that the cancer will still be present following surgery. The benefits of simultaneous versus secondary breast reconstruction surgery following mastectomy can be discussed during your consultation.
Breast Reconstruction or Revision?
If you are unhappy with the appearance of one or both breasts, it may be confusing to know whether you need a reconstruction or revision procedure. Here is a comparison to clarify:
Breast reconstruction is typically performed after mastectomy or lumpectomy. This procedure completely replaces the breast or restores the appearance of a breast partially lost or disfigured due to trauma or treatment of cancer or another disease. The breast may be recreated using a breast implant or the patient's own tissue (called a flap reconstruction).
Breast revision surgery is a broad term for cosmetic surgery that corrects previous breast surgery such as breast augmentation, breast lift, and even breast reconstruction. Reasons for revision surgery include replacing breast implants, addressing complications such as capsular contracture, and improving the shape of a reconstructed breast.
As experts in breast surgery, our surgeons have extensive experience and a proven track record of success performing these complex operations for a diversity of cases.
Preparing for Breast Reconstruction in Louisiana
A large part of the planning involved in a breast reconstruction is shouldered by two physicians your oncologist and plastic surgeon – as they coordinate the surgery. Together with each of them, you will discuss how to prepare for the surgery. When surgeries are performed simultaneously, a hospital stay of a couple of days is generally recommended to ensure you receive optimal care.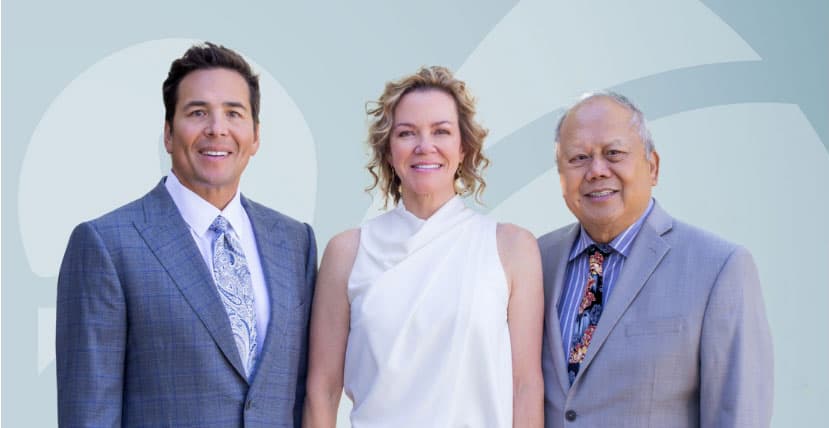 Meet Our Surgeons
Recognized worldwide for developing groundbreaking techniques that represent the standard of excellence in plastic surgery, our board-certified plastic surgeons earn rave reviews from patients and peers alike.
Request Your Consultation
The Surgery
This procedure is performed under general anesthesia, so you will be asleep during the entire process. Generally, your plastic surgeon will begin to operate when the oncologist has finished removing the cancerous cells from the breast.
There are two methods employed to reconstruct breasts – skin expansion and the flap method. When skin expansion is used, a balloon is inserted into the breast tissue and is expanded to create room for new tissue. The surgeon will insert the implant and suture the skin after enough tissue forms. Micropigmentation may be used recreate a nipple for a more natural look.
The flap method involves taking tissue from a donor site, such as the back, abdomen or buttocks, and is moved to the breast area. Sometimes, it is removed and then transplanted, while other times, the tissue remains intact with continuous blood flow and is moved through the body and positioned into place on the chest. Some women have enough tissue on the chest to form a new breast mound, while other women will need a breast implant in Louisiana.
Real Patient Showcase
While cosmetic procedures can work wonders, it is important to remember that before you choose Louisiana breast enhancement, you should carefully consider your motivations and expectations. Our surgeons will evaluate you during the consultation to ensure that you are a good candidate for the procedures that interest you.
Photo Gallery
Request Your Consultation
Results
Most patients are very pleased with their Louisiana breast reconstruction results and relieved that after undergoing such an ordeal with cancer, they will still look good in their clothes. While the new breast will not exactly match the original breast, it will look the same under clothes. Some sensation on the breast will be lost permanently and scars will never completely go away, although over several months the scars will fade to become much less noticeable.
It will take several weeks to recover from the surgery although noticeable improvements should be seen after a week or so. Ultimately, breast reconstruction can restore a normal and natural-looking shape and most patients are very pleased and confident in the results.
Request a Consultation
If you are considering breast reconstruction in Louisiana, Arkansas, or Texas, our surgeons can help. Request a consultation at The Wall Center for Plastic Surgery or call our office at (318) 795-0801.

Step into the full-service Jade MediSpa and experience our modern skin rejuvenation treatments that can renew your spirit.
Learn More
We're Worth the Trip
Patients come from all across Ark-La-Tex and around the globe to receive world-class care at The Wall Center for Plastic Surgery and Jade MediSpa. We frequently see patients from many communities:
Dallas, TX
Minden, LA
Lafayette, LA
Tyler, TX
Little Rock, AR
New Orleans, LA
Natchitoches, LA
Nacogdoches, TX
Jackson, LA
Lake Charles, LA
Marshall, TX
Alexandria, LA
Baton Rouge, LA
Take the first step today and request a consultation or call (318) 795-0801. Ask about our special programs for patients who travel, including our beautiful on-site guest suites. We can't wait to greet you!