The Wall Center for Plastic Surgery
8600 Fern Avenue
Shreveport, LA 71105
Phone: (318) 795-0801
Monday–Friday: 8 a.m.–5 p.m.

The Wall Center for Plastic Surgery
8600 Fern Avenue
Shreveport, LA 71105
Phone: (318) 213-1772
Monday–Friday: 7 a.m.–5 p.m.

Breast Augmentation
There are so many different reasons women choose breast augmentation. Enlarging your breasts can boost your confidence during swimsuit season, make your clothes fit better, and help you feel like your upper body is more proportional with the rest of your body. You may also want to restore the fullness lost after pregnancy and breastfeeding.
Even though women have differing reasons for wanting breast implants, women from cities like Tyler, Texas, Lafayette, Louisiana, and throughout the Ark-La-Tex can agree on one thing: They trust the board-certified plastic surgeons at The Wall Center in Shreveport to create beautiful breast augmentation results that exceed their expectations.
Breast Augmentation

Before & After Photos
WARNING:
This feature contains nudity. Please click OK to confirm you are at least 18 years of age and are not offended by such material.
OK
Photo Gallery
Breast Augmentation Before & After Photos
Keep in mind that each patient is unique and your results may vary.
Is Breast Augmentation Right for You?
Excellent candidates for breast augmentation are healthy women who are excited about getting breast implants for their own personal reasons. The physical benefits of breast augmentation include:
Enlarging naturally small breasts
Minimizing breast asymmetry
Creating enhanced cleavage
Restoring fullness to breasts after weight loss or breastfeeding
Improving appearance and confidence in a variety of clothing styles
Women who have lost a significant amount of weight or have sagging breasts after childbearing may need to combine breast augmentation with a breast lift. Breast implants on their own will make breasts sag even more if the breast skin has lost elasticity and there is already moderate to severe ptosis, or sagging.
What Happens During a Consultation?
Our surgeons want you to feel comfortable and relaxed during the initial consultation, and they take the time needed to address your questions and explain the procedure in a way that's easy to understand. Your surgeon will help you decide on the size, profile, and type of breast implants to create the appearance you want, along with choosing where to make incisions and whether or not to insert the implant over or underneath the chest muscle.
One of the most helpful tools we offer patients is our VECTRA® 3-D imaging system, which gives you the opportunity to see potential results with different sizes of implants. The system uses a sophisticated camera and software to create a 3-D rendering of your body using photos taken by our staff. You and your surgeon can review the images together and collaborate to ensure you share the same vision of your breast augmentation results.
See Your Procedure in 3-D
The Wall Center is one of the only practices in Louisiana to offer breast augmentation patients the opportunity to plan and preview their results with the VECTRA® 3-D imaging system. VECTRA's lifelike renderings allow us to select the implants and surgical options that will produce your ideal breasts.
Learn More
How Is Breast Augmentation Performed?
We use general anesthesia for breast augmentation patients to ensure they are comfortable and safe during the procedure. The techniques used during the surgery, such as where your surgeon will make the incisions and how he or she will place the implants, are based on the surgical plan created after your consultation.
Incision options include:
Periareolar: On the lower edge of the areola
Inframammary: At the base of the breast where it attaches to the chest wall
Transaxillary: In the armpit
An inframammary incision is the most common because it provides direct access when the surgeon places the implant and ensures the preservation of nipple sensation. Our surgeons take care to make incisions in such a way that scarring is inconspicuous.
Implants can be placed either above the chest muscle and behind existing breast tissue (subglandular) or behind the muscle (submuscular). There are benefits to each option. For women with little existing breast tissue, submuscular placement is usually the best choice as it provides more coverage of the implant.
Our surgeons use the innovative Keller Funnel® when placing silicone gel implants. The use of the funnel allows for shorter incisions and offers a "no-touch" technique that enhances the safety of the surgery by reducing the risk of infection and shortening surgical times. After the surgeon creates the implant pocket, implants are placed in the lubricated funnel and squeezed through the smaller incision and placed with precision.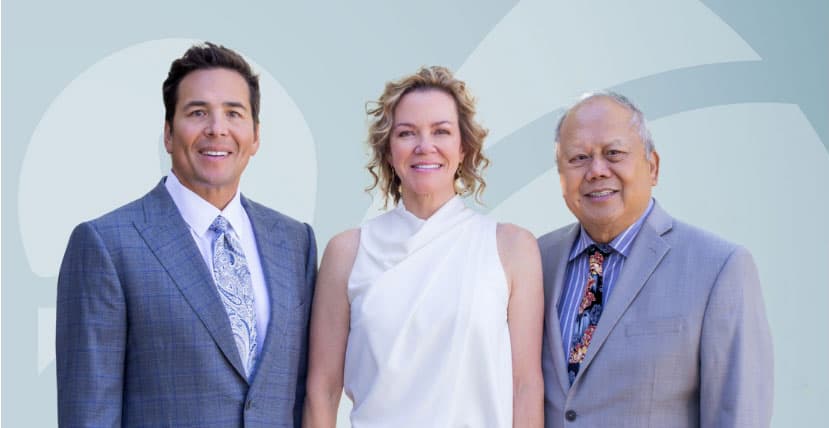 Meet Our Surgeons
Recognized worldwide for developing groundbreaking techniques that represent the standard of excellence in plastic surgery, our board-certified plastic surgeons earn rave reviews from patients and peers alike.
Request Your Consultation
Are Silicone Gel Implants Better Than Saline?
Women today have more options than ever when it comes to breast implants. This includes the choice between cohesive silicone gel implants and saline implants. Silicone gel implants aren't necessarily better than saline implants, but they are more popular, and many patients believe they look and feel more natural than implants filled with saline.
The newest generation of silicone gel implants have varying levels of cohesiveness, but all remain intact even if punctured or cracked. On the other hand, saline implants immediately deflate if they rupture, and the harmless liquid is absorbed by the body. Some women express concern about the safety of breast implants. The specific type of implant that has been linked to a very rare illness is no longer offered at The Wall Center.
Full, Soft, Resilient
One of the country's most popular implants now features an exciting new option. Natrelle INSPIRA®, from Allergan, is available in a cohesive silicone gel that holds up better than any other available in the U.S. Form-stable yet still incredibly soft, these innovative implants keep their shape at all angles, in all positions — even if they're damaged.
Learn More
Recover Faster and More Comfortably
Our patients appreciate the rapid recovery protocol that we use for breast augmentation procedures because it allows them to get back to normal sooner. This protocol, developed over more than a decade at The Wall Center, includes:
Meticulous surgical techniques that minimize tissue trauma
Stretching and massage techniques that begin the evening of your surgery
Narcotic-free pain management that includes ice, stretching, and Celebrex® (an anti-inflammatory)
The goal is for you to be able to engage in routine activities on the evening of your surgery. More strenuous activities should be avoided for about 2 weeks. We instruct patients not to engage chest muscles during exercise until 4 weeks after surgery.
Read more about our rapid recovery protocol in this blog post.
Swelling and bruising are normal after surgery and gradually resolve on their own in most cases. You should have a pretty good sense of what the final results will look like after about 6 weeks when the swelling is minimal and the incisions have mostly healed. Even then, however, it will still take more time for the tissues to soften and the implants to settle into their final position. Being patient about this process can be difficult, but most women are very happy with the final outcomes.
The Wall Center for Plastic Surgery
Get Started With a Consultation
Our plastic surgeons at The Wall Center for Plastic Surgery specialize in all body contouring procedures, including breast augmentation, and women travel from Lafayette and throughout Louisiana and adjacent states to have their procedures performed here. You can request a consultation using the online form or call us at (318) 795-0801 to schedule an appointment.
Fat Grafting — Natural fullness right where you want it
Using fat transferred from another part of your body, fat grafting can add lasting, natural-looking shape and volume.
Learn More
Breast Augmentation FAQ
Can I breastfeed after breast augmentation?
The vast majority of breast augmentation patients are able to breastfeed after their surgery. Choosing a qualified plastic surgeon experienced in breast augmentation is one of the best steps a woman can take in achieving the desired results. According to prior studies on the subject, there is a 10 to 15% chance you may not be able to breastfeed after breast surgery, although we have found this to be more rare, especially when only a breast augmentation is performed.
---
Can you combine breast augmentation with other procedures?
Combining breast augmentation with other body contouring surgeries is common, especially for women who have had children or who have lost a significant amount of weight. Often called a Mommy Makeover (even though you don't have to be a mommy to have one), this procedure typically includes a tummy tuck and liposuction along with breast enhancement surgery. A breast lift with implants is also often recommended for women whose breasts have lost volume and have begun to sag.
---
Where can I learn more about breast augmentation?

Step into the full-service Jade MediSpa and experience our modern skin rejuvenation treatments that can renew your spirit.
Learn More
We're Worth the Trip
Patients come from all across Ark-La-Tex and around the globe to receive world-class care at The Wall Center for Plastic Surgery and Jade MediSpa. We frequently see patients from many communities:
Dallas, TX
Minden, LA
Lafayette, LA
Tyler, TX
Little Rock, AR
New Orleans, LA
Natchitoches, LA
Nacogdoches, TX
Jackson, LA
Lake Charles, LA
Marshall, TX
Alexandria, LA
Baton Rouge, LA
Take the first step today and request a consultation or call (318) 795-0801. Ask about our special programs for patients who travel, including our beautiful on-site guest suites. We can't wait to greet you!