The Wall Center for Plastic Surgery
8600 Fern Avenue
Shreveport, LA 71105
Phone: (318) 795-0801
Monday–Friday: 8 a.m.–5 p.m.

The Wall Center for Plastic Surgery
8600 Fern Avenue
Shreveport, LA 71105
Phone: (318) 213-1772
Monday–Friday: 7 a.m.–5 p.m.

Tummy Tuck
If the badge of honor you receive from childbirth is your offspring, a flabby belly is often the war wound earned from the accomplishment. Fortunately, many women need not endure the excess skin, fat, and lax abdominal muscles incurred from having a family. Having a tummy tuck at our Shreveport, Louisiana, practice can transform your body by making the stomach flat and tightening abdominal muscles. It can even hide scars left behind by a C-section.
Tummy Tuck

Before & After Photos
WARNING:
This feature contains nudity. Please click OK to confirm you are at least 18 years of age and are not offended by such material.
OK
Photo Gallery
Tummy Tuck Before & After Photos
Keep in mind that each patient is unique and your results may vary.
Is a Tummy Tuck Right for You?
Even though a tummy tuck is typically associated with women who have had children, the procedure can benefit any woman or man who has lost a significant amount of weight and who is bothered by excess abdominal skin and stretch marks. Abdominoplasty is an excellent option for patients who are in good shape but are self-conscious about wearing a swimsuit or taking off their shirts.
A good tummy tuck candidate is typically between the ages of 30 and 55 and:
Is close to the body weight they want to maintain
Wants specific areas of loose skin and fat removed
Has maintained a stable weight for at least 6 months
Has good skin tone and elasticity
Has realistic expectations
Is emotionally stable
Understands the risks of abdominoplasty surgery
We can discuss these considerations during your consultation, when your surgeon will evaluate your health, determine the extent of fat deposits in your abdomen, and assess your skin tone.
BMI Calculator
While body contouring surgery isn't about weight loss, it can be a great way to target certain "trouble spots" when you drop the extra pounds. Quickly calculate your body mass index (BMI) here.
Your Total Body Mass Index is
Underweight Below 18.5
Normal 18.5–24.9
Overweight 25.0–29.9
Obese 30.0 & Above
How Is a Tummy Tuck Performed?
In general, a tummy tuck involves the surgeon making an incision just above the pubic area that stretches from hip to hip. Another incision encircles the bellybutton. After making the incisions, the surgeon separates the skin and fat from the abdominal wall and then removes the excess skin and fat. In many cases, the abdominal muscles are tightened. Using a small incision to make an opening for the belly button, the surgeon carefully reshapes the bellybutton for a natural and beautiful look. A tummy tuck can also include the removal of stretch marks and C-section scars.
Tummy Tuck Combined With SAFELipo360®
Most tummy tuck patients at The Wall Center undergo SAFELipo360, a procedure developed by Dr. Simeon Wall Jr. that produces results that are far superior to those following either standalone liposuction or abdominoplasty. The expertise of our surgeons performing this procedure is recognized by peers both nationally and internationally.
Comprehensive body contouring that addresses excess skin and fat and repairs diastasis recti (separated abdominal muscles) is safe and, in most cases, is in the best interests of patients. That's why it's the procedure our surgeons recommend first for patients with any degree of diastasis recti who are not planning to have more children.
Using the SAFELipo technique that Dr. Wall Jr. developed enables the surgeon to maximize the removal of excess fat without creating contour deformities or disrupting blood vessels or connective tissue, issues commonly seen with standard and thermal forms of suction-assisted lipectomy.
Tummy Tuck Techniques
After evaluating patients during their consultations, our surgeons recommend a specific type of abdominoplasty procedure for them. There are 4 categories of tummy tucks based on the incision (as shown in the illustrations):
Extended tummy tuck
Full tummy tuck
Short vertical scar tummy tuck
Umbilical float tummy tuck
Horizontal incisions are made very low on the abdomen, just above the pubic area, so scars can be easily concealed by even low-cut bikini bottoms.
Our surgeons close the incisions using progressive tension sutures in multiple areas. This advanced technique virtually eliminates fluid accumulation during the healing process, a complication called a seroma, and has the added benefit of minimizing tension after the final skin closure. This minimizes the appearance of scars.
Drains placed at the end of surgery help reduce swelling and collect excess blood and fluid to minimize the risk of complications; these are removed a few days later.
What Is a Mini Tummy Tuck?
A mini tummy tuck removes less than 3 inches of fat and skin from the stomach. In contrast, a full abdominoplasty removes a larger amount of skin and fat tissue below the bellybutton and involves forming a new bellybutton. A mini tummy tuck also requires a much smaller incision than a full abdominoplasty but can't be used to tighten abdominal muscles. Relatively few patients considering a tummy tuck are good candidates for a mini tummy tuck but our surgeons discuss all options during the consultation.
Can You Combine a Tummy Tuck With Other Procedures?
A tummy tuck is often combined with SAFELipo® as part of the comprehensive body contouring approach our surgeons use to create results that truly set The Wall Center apart from other practices. The procedure is also an essential element of Mommy Makeover surgery, which typically includes cosmetic breast surgery such as a breast lift with implants in addition to liposuction and abdominoplasty.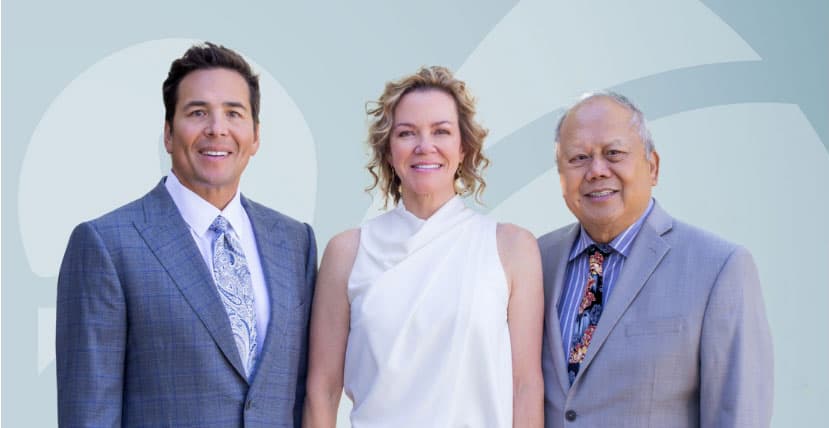 Meet Our Surgeons
Recognized worldwide for developing groundbreaking techniques that represent the standard of excellence in plastic surgery, our board-certified plastic surgeons earn rave reviews from patients and peers alike.
Request Your Consultation
Fat Grafting — Natural fullness right where you want it
Using fat transferred from another part of your body, fat grafting can add lasting, natural-looking shape and volume.
Learn More
What Should You Expect During Recovery?
Patients who undergo a tummy tuck have a slightly longer recovery time if the surgeon tightens the abdominal muscles during the procedure. Tummy tuck patients who have young children must avoid lifting them during the first 10 days after the surgery, so it's important to arrange for help with childcare. Almost all our body contouring patients return to their normal workout and exercise routine by 3 weeks after surgery. Most patients report minimal pain from the surgery, and just about everyone reports a high level of satisfaction with their results.
Our surgeons inject EXPAREL® before closing tummy tuck incisions. The use of EXPAREL, a long-acting local anesthetic, is a significant advance in post-op pain management, and most of our patients report minimal discomfort in the first 3 to 5 days after surgery.
Get Started With a Consultation
To get started with your tummy tuck procedure, request a consultation at The Wall Center for Plastic Surgery or call our office at (318) 795-0801. Conveniently located in Shreveport, we serve patients from throughout Louisiana, Arkansas, and Texas.
The Wall Center for Plastic Surgery

Step into the full-service Jade MediSpa and experience our modern skin rejuvenation treatments that can renew your spirit.
Learn More
We're Worth the Trip
Patients come from all across Ark-La-Tex and around the globe to receive world-class care at The Wall Center for Plastic Surgery and Jade MediSpa. We frequently see patients from many communities:
Dallas, TX
Minden, LA
Lafayette, LA
Tyler, TX
Little Rock, AR
New Orleans, LA
Natchitoches, LA
Nacogdoches, TX
Jackson, LA
Lake Charles, LA
Marshall, TX
Alexandria, LA
Baton Rouge, LA
Take the first step today and request a consultation or call (318) 795-0801. Ask about our special programs for patients who travel, including our beautiful on-site guest suites. We can't wait to greet you!