If you're looking for the best med spa in Shreveport, or even throughout Louisiana and East Texas, very few will match Jade MediSpa's combination of highly trained and experienced specialists, our track record for leadership in the aesthetics field, and the advanced treatment technology available.
What Makes Our Med Spa Team Special?
Starting with medical director Dr. Simeon Wall Jr., a board-certified plastic surgeon recognized worldwide for his innovative approach to aesthetics, the Jade team is second-to-none when it comes to experience, training, and providing personalized treatment for each and every patient who chooses our med spa.
Many of our specialists have been part of The Wall Center for years and have developed relationships with the women and men who return to Jade over and over because of the customized care they receive. That kind of stability is rare for med spas and is one of the features that sets Jade apart.
Highly Trained Practitioners
Of course, each of our aesthetic professionals uses that knowledge and skill to create treatment plans designed to address a patient's specific needs and produce excellent results.
You'd be hard-pressed to find a med spa with the educational background of our team. Among our providers are Ashli Davis and Joanna Poole, who are both Women's Health Nurse Practitioners who earned their master's degrees in nursing. Kelli Black is a registered nurse and one of our specialized aesthetic nurses. Leah Goswick is also an RN with a bachelor's degree in nursing from Texas Christian University.
Jade MediSpa earned a Stellar Patient Experience Award based on patient feedback posted at RealPatientRatings.com and has a 96.6% patient satisfaction rating on the site from nearly 740 patient ratings.
"I had been using another aesthetician for a few years and my face was just ok. I started coming to Jade Medi Spa and have gotten several compliments of how great my face looks now. The staff are all very sweet and friendly. I've bought the products they have suggested and they have made a world of difference in my skin tone and texture."

RealPatientRatings review, posted June 15, 2021
A Track Record of Innovation
Our team has a knack for finding the "latest and greatest" treatment options that are fully vetted by Dr. Simeon Wall Jr. His leadership and hands-on approach take him around the world to ensure Jade patients have access to the most effective nonsurgical procedures.
Dr. Simeon Wall Jr., for example, is a leader in the field of treating cellulite and was among physicians involved with the research and trials behind Cellfina™, a revolutionary cellulite treatment cleared by the FDA to reduce the appearance of cellulite in common problem areas, such as the buttocks and thighs. Jade MediSpa was one of only 14 sites that participated in the exclusive Cellfina Registry study.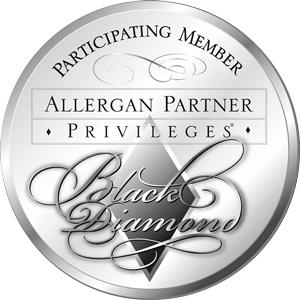 One of the many examples of Jade's commitment to being at the forefront of the aesthetics field is our status as an Allergan Black Diamond provider. That status is awarded to an elite group of medical aesthetics practices who are among the top 1 percent of Allergan's injectors in the United States.
Our practice has also participated in JUVÉDERM™ Experience Trials (JET) for Allergan's dermal filler.
Always at the Forefront of Aesthetic Treatments
Jade prides itself on being among the first to offer groundbreaking procedures. We don't follow trends; we set them. Numerous examples of this leading-edge mindset include:
CoolSculpting®: We've led in the nonsurgical fat reduction field as the number one CoolSculpting provider in Louisiana and among the top 2% in the country.
Jeuveau®: We were one of the first in the nation to offer Jeuveau—an alternative to BOTOX® Cosmetic nicknamed "Newtox."
ThermiVa™ Feminine Rejuvenation: Jade began offering this game-changing treatment performed at Jade MediSpa and The Wall Center to be completed on it's own or as a compliment to labiaplasty.
Because Jade offers such a wide range of laser and light energy-based treatments, patients aren't forced into a one-size-fits-all solution to their unique concerns. They can recommend a specific technology designed for a patient's skin type and the precise condition they want to address. This flexibility is an invaluable part of the Jade experience.
Browse our Jade MediSpa before-and-after photo gallery to see for yourself the types of results our providers produce for actual patients.
If you want to learn more about the med spa, our providers, or the treatments offered at Jade, contact us using the online form to request a consultation or call us at (318) 213-1772 to schedule an appointment.