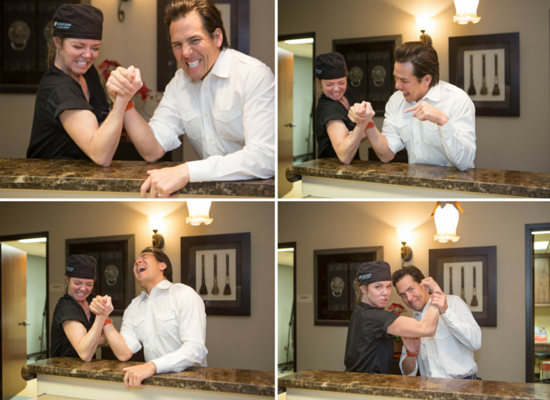 On the surface, it might seem like a silly question. But a recent study published in the Aesthetic Surgery Journal aimed to determine whether male or female plastic surgeons have an edge, especially when serving a patient base that's primarily female. Here at The Wall Center, our dynamic duo of Drs. Holly and Simeon Wall Jr. would definitely have something to say on that, and as it turns out, they were invited to write the commentary for the study, titled "The Impact of a Plastic Surgeon's Gender on Patient Choice, by Drs. Heather Furnas and Paco Canales." Like the authors of the study, Dr. Simeon Wall Jr. and Dr. Holly Wall are Stanford University-trained plastic surgeons and also a married couple, with identical training and remarkably similar practices and experience. One of the primary factors that distinguishes them from each other, of course, is gender.
The study surveyed 200 plastic surgery patients, all of whom were women. With a mean age of 39 years, the sample population was an excellent representation of the patients we see here at The Wall Center. Aesthetic plastic surgery is largely client-driven (as opposed to other medical specialties, where a referring physician or your insurance company dictates the doctor you see), so the study helps us understand, at least partially, what factors motivate someone to choose a specific plastic surgeon.
The results were interesting! 26% of the patients surveyed said they specifically requested a female plastic surgeon, and just under 1% (2 patients) said they requested a male doctor. However, similar percentages of patients requested an individual surgeon by name. Of those, 14.5% of patients requested a specific male surgeon, while 12.5% requested a specific female surgeon. Dr. Holly Wall and Dr. Simeon Wall, Jr., agree that both surgeon qualification and surgeon gender likely played a role in each patient's decision, with qualifications carrying a bit more weight in the final decision. But perhaps more important is the surgeon's overall reputation, especially in the age of online reviews. In their commentary, the Walls write, "Like the authors, we have found surgeon reputation to be the single most important factor in how patients choose a surgeon."
While clinical studies like this one are an invaluable way to stay on top of the latest discoveries in medicine, they can't tell us everything. We want to hear from our own patients to learn why you chose Dr. Holly or Dr. Simeon Wall Jr. Leave a comment here and share with us whether gender played a role. We promise you won't hurt their feelings!