Patients considering Brazilian butt lift surgery at our Shreveport, LA, practice sometime mention safety concerns they've read about involving plastic surgery practices in other areas. As a surgeon who has been at the forefront of establishing safety standards for performing Brazilian butt lifts, I understand these concerns and reassure patients that their safety and well-being are the top priorities at The Wall Center.
I co-authored a study published in the May issue of Plastic and Reconstructive Surgery®, the official medical journal of the American Society of Plastic Surgeons (ASPS), that proposes new safety standards that directly reduce the risks associated with Brazilian butt lift surgery. These are standards that I and other experienced, board-certified plastic surgeons already follow, but which need to be communicated and adopted by all surgeons.
The Brazilian butt lift (BBL) enhances the buttocks using fat transfer, which involves harvesting excess fat from other areas of the body such as the abdomen, hips, lower back and thighs through liposuction. Fat transfer is an increasingly popular alternative to buttock implants. More than 24,000 buttock augmentation with fat grafting procedures were performed in 2018—an increase of 19% over the previous year—according to ASPS statistics.
It's great that the procedure is so popular, but it's concerning that many surgeons, especially those new to the procedure, may not be using the best instrumentation or the best techniques to avoid problems.
New Safety Standards
The study I co-authored specifically examined the connection between injecting fat under the fascia of the gluteus maximus (the buttocks muscle) and safety issues such as fat embolisms following BBL surgery. Our research led us to propose a new standard of care that prohibits this type of injection. Instead, fat should only be injected into the tissue just below the skin.
This safety standard is already being adopted. In Florida, the state's Board of Medicine Board voted recently to prohibit doctors from inserting fat into a patient's muscle as a way to avoid complications. These safety issues are even more of a concern in other countries that are popular destinations for "medical tourism." A 2015 paper in Plastic and Reconstructive Surgery reported a series of 22 deaths in patients undergoing gluteal fat injection in Colombia and Mexico. The deaths were caused by pulmonary embolisms: collections of fat blocking the arteries in the lungs.
Educating Surgeons and Patients
These tragedies illustrate why The Wall Center takes a leadership role in setting safety standards and in patient education. I've also developed specialized liposuction and fat injection techniques that enhance both the safety and results of BBL procedures. In SAFELipo BBL®, we use SAFELipo® to extract the fat, which is then purified in special holding canisters. Next, the fat is carefully injected into the buttocks with another innovative technique I developed called EVL (expansion vibration lipofilling). EVL effectively increases the amount of fat that can be successfully transferred during a fat grafting procedure.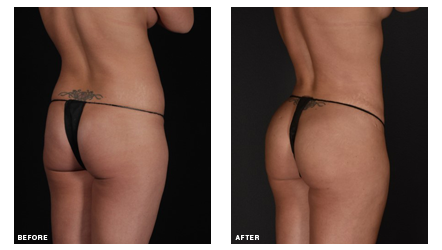 When performed by a highly trained, board-certified plastic surgeon, a Brazilian butt lift can create beautiful results, as you can see in before-and-after photos of our actual patients. If you want to learn more about this procedure, contact us using the online form to request a consultation or call us at (318) 795-0801.